Curricalum Plan (for bachelor's)
Department of Taiwan Language and Communication
Curricalum Plan (for bachelor's) 2020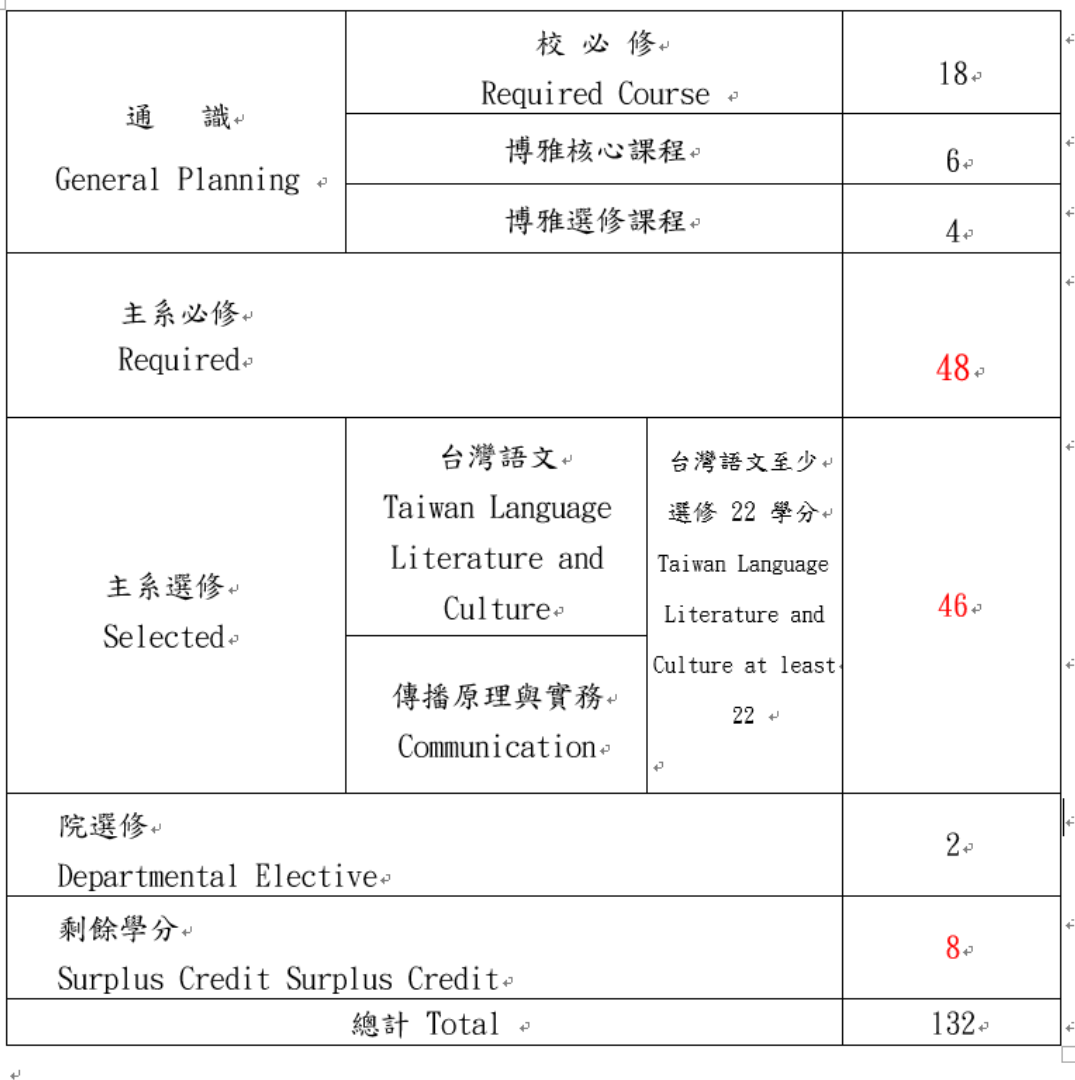 Notes:
Graduates must pass the relevant qualifications for the English examination as

specified in Article 68 of the university's academic policies.

A maximum of two (2) graduation credits can be earned for the military training course.

3. Before graduating, students must pass one of

the three language proficiency certification primary exams

in Taiwan Hakka, Hokkien, or indigenous languages. Students in this Department who have placed in the top three in school-wide, county or city level native language competitions are deemed to have passed the graduation requirements of the language section of the Department and are exempt from participating in the native language proficiency cerification.

Students have to complete the required public news or audio-visual work before graduation.

In terms of news reporting/editing,

two pieces of news

(personally completed)

must be published in news media distributed and broadcast by the county and/or city or at least

six pieces of news

must be published in the NUU Newspaper or NUU News issued by the Department.

In terms of broadcast work, it must be broadcast on officially registered media and certified in accordance with the regulations of the graduation threshold rules of Voice of the United Nations University.

In terms of audio-visual work, in addition to being publicly broadcast on officially registered media and certified, students who have won awards that have been shortlisted or above in school-wide or county-level audio-visual competitions can also earn certification. If no awards were won, the student should have submitted more than three (3) entries to earn certification. The number of participators for each work is limited to four (4).
8. At least 132 credits are required for graduation. Of the 46 credits for elective courses in the main Department, at least 22 credits for Taiwanese languages are for electives.
9. Students must earn at least six credits in major electives, including Taiwanese Austronesian (1) (2), Taiwanese Hokkien (1) (2), Language Field Research, Hakka Writing and Practice, Hokkien Writing and Practice , Hakka grammar and rhetoric, and creative wrting in Taiwanese languages.
10. About continuous courses (1) and (2) offered by the Department, students must first take courses (1) before taking courses (2).
11. Students must complete a course on academic integrity and ethics training in accordance with the Implementation Points of the National United University Student Academic Integrity and Ethics Training Course.
12. Learning Autonomy: Students must participate in 12 Lectures or academic events held by the University before graduation that are certified to obtain 1 credit.